The Chaplain serves the department at the pleasure of the Sheriff. There are three main areas of service that the Chaplain provides to the department.
Officer Support
The Chaplain provides many services to the officers and staff of the department. Those services include counseling support, critical incident debriefing, assistance at the scene when fatalities are involved, encouragement, and helping with any needs that arise with an officer or their family. The Chaplain also provides general pastoral care to the officers, visiting them in the hospital, performing weddings for officers, and funeral services. Officer support is the primary responsibility of the Chaplain. This support is fostered through riding with officers on patrol, spending time with them in the office, and attending and participating in various continuing education opportunities that may arise.
Victim's Assistance
The Chaplain is on call to the department 24/7 to aid the officers when fatality accidents occur, violent crime, rape, homicides and other crimes which have a traumatic impact on the victims and their families. The Chaplain delivers death notifications and provides help to families on the scene of traumatic events in order to give the officers more time to process and investigate the accident or crime scenes. The Chaplain can refer persons for grief counseling or other counseling as needed.
Public Relations
The Chaplain provides a variety of public relations support to the department. He speaks at civic clubs and other community groups to raise awareness and to educate the public regarding the challenges and opportunities facing the Sheriff's Office. He conducts courtesy visits to businesses throughout the community in order to listen and help with any needs of which the department may be unaware. The Chaplain is a liaison between the department and the community when needed.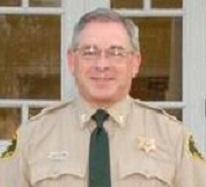 Chaplain Tommy Mitchell